Nest Smoke & CO Alarm
There are many different sensors for home automation. Smoke and CO seonsors are two of them. But isn't it the time that you expect more from your sensors?
Nest provides an alarm system that gives us these two sensors. The name of the product is Nest Smoke and CO Alarm. With its sensors,   Nest Smoke and CO Alarm product measures the smoke and CO amouth in your house. It speaks and alerts you by sending alarms to your mobile phone.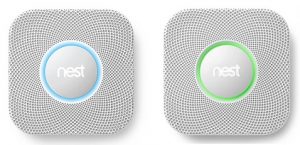 How Nest Smoke and CO Alarm Works?
Nest Smoke and CO Alarm is an alarm mechanism for smoke and CO detection. When an unaccepted situation occurs, for example a little fire, Nest Smoke and CO Alarm let you know that there is sth wrong.  It does this with its included sensors.
Whenever it detects something it warns you with voice. It also send an alarm to your mobile device.
Nest Smoke and CO Alarm also works with Nest Thermostat. According to the detected problem, it sends commands to the Nest Thermostat and decrease and increase the temperature.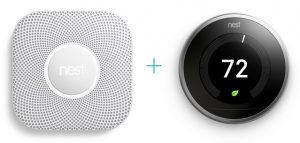 Why Nest Smoke and CO Alarm is necessary?
According to the researches, in the 1970s,30 minutes are needed for a room to taken over by fire. But todat, it is only 5 minutes or less. New furnitures makes the fire burn fast. So, smoke detection is very important.
Over 1 million homes in the US experience high levels of CO each year. You can not smell or see CO.  So for healt CO detection is also very important.
To detect these bad facts earlier, you need to use a detection mechanims. Nest Smoke and CO Alarm is a good choce for this area.
For more information visit Nest